Baptisms:

Baptisms are usually celebrated the last Saturday of each month. Parents and Godparents are required to take Baptismal Classes. If you are interested in this sacrament, please call or email San Isidro Catholic Church or Deacon Nay Henriquez.

Bautismos:

Usualmente una vez al mes y se necesitan instrucciones Bautismales.Si estás interesado en este sacramento, debe hablar con el diácono Nay por teléfono o correo electrónico.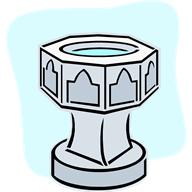 "All those justified by faith through baptism are incorporated into Christ."











Pope John Paul II